Tell us about your Dog
Your box contents aren't just fun & exciting, they are hand selected to suit your dog.
Pick your Plan
Choose from 1, 3 or 6 box plans.
Monthly or bi-monthly delivery.
It's risk free, and you aren't locked in.
Basically, you are the boss!
Monthly Excitement
We ship your box on, or just after, 23rd of each month. Watch your dog become the happiest pooch on earth!
Try Now.

it takes less than 30 seconds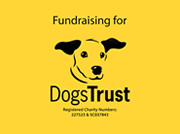 We support DogsTrust
For every box we send out £0.50 goes to DogsTrust.
This couldn't be done without your support. Thank you!

What's In Each Box?
The dog treats and toys in your box are specially hand picked every month by our dog experts. We guarantee a fantastic mix of exciting items that your dog will enjoy. Exactly what is in each monthly treat box depends on which
box size you select
. Our office mascot,
@callie_spaniel
, makes sure she helps testing the treats & toys!

Why Order Now?
•Order now to receive this months goodie box.
•Like free delivery? You got it, our boxes are free delivery too!
•You can cancel your box subscription whenever you like.
•Every month too much? No problem, pause or alter your boxes easily.
•We know our stuff, and we guarantee your will love the service you receive.

It's all about you and your dog
Relationships are hard. Fortunately dogs tend to love you for just being you. Basically, they make us happy without asking much in return! That's why we love to give back to our dogs.
At
doggtreats.com
we make it easy to help you give back to your dog. We all find it exciting opening new things, prezzies and packages. Well so do dogs! And a
doggtreats.com
package is about as exciting to dogs as packages get!
Our treats and toy boxes arrive every month with goodies (including healthy goodies and toys, depending on which treats box is selected) straight to your door. Once your dog gets used to these monthly boxes, expect them to start licking the postman in thanks instead of barking at him!